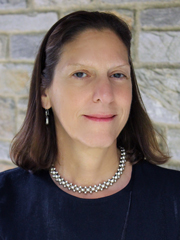 About The Author
Martha Hodes is Professor of History at New York University, and has taught as a Fulbright scholar in Germany and as a Visiting Professor at Princeton University. In addition to Mourning Lincoln, she is the author of The Sea Captain's Wife: A True Story of Love, Race, and War in the Nineteenth Century, which was a finalist for the Lincoln Book Prize, and White Women, Black Men: Illicit Sex in the Nineteenth-Century South, winner of the Allan Nevins Prize for Literary Distinction in the Writing of History.
At NYU, Hodes teaches courses on race, the Civil War, and the nineteenth-century United States, as well as courses devoted to the craft of history-writing, including Writing the Civil War, History and Storytelling, Biography and History, Reconstructing Lives, and Experimental History. She is a winner of NYU's Golden Dozen Teaching Award.
Hodes holds degrees from Bowdoin College, Harvard University, and Princeton University, and has been awarded fellowships from the John Simon Guggenheim Memorial Foundation, the National Endowment for the Humanities, the American Council of Learned Societies, the Cullman Center for Scholars and Writers at the New York Public Library, the Charles Warren Center at Harvard University, the Massachusetts Historical Society, the Schomburg Center for Research in Black Culture, and the Whiting Foundation. She is an elected fellow of the Society of American Historians.
She has presented her scholarship across the United States, in Europe, and Australia, speaking at universities and colleges, high schools and elementary schools, historical societies, libraries, museums, and literary festivals, and serves as a consultant for documentaries, television and radio shows, and museum exhibitions on many aspects of American history. She lives in New York City and Swarthmore, Pennsylvania.